Page 2 of 2 •

1, 2

First topic message reminder :
The problem I have is that I am sick of plugging stuff in all the time and the missus is a little off with me for having all of the gear all over the place.
I went out and bought an old analogue style 19" rack mixer box. What I wanted to achieve was to have this box that would be able to power all of my units from one kettle socket that I could just take to clubs with me and plug in and not worry. I also have space problems with HDD's As I am a DJ & VJ and a producer and all of the files fill internal laptop HDD's in seconds.
The contents will be:
Akai APC40,
Vestax VCM600,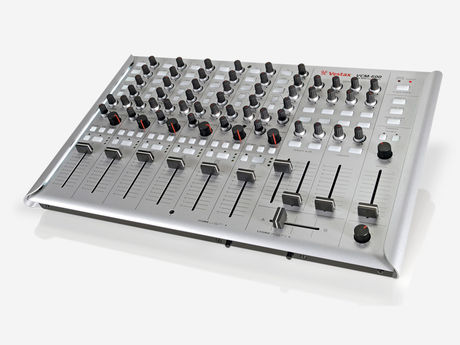 2 usb hubs,
Native instruments ADJ8,
Evolution X-Session (mounted to to top plate at 90deg so the crossfader will become a level fader),
2 no removable 3.5" HDD (Server style) with 2 2TB HDD's connected to 2 external ESATA plugs that I can connect to my 17" MBP using a Express Card ESATA connector.
Here are some pics of where I am with the project.
Here are the two HDD's that I can remove from a door on the back (They are old HDD's so I dont damage the new 2TB ones that I have boxed at home).
Here is the ATX PSU I am using as it is light and low powered and quiet.
The PSU powers happily my APC40
And a USB powered hub to power my VCM 600 (that will be mounted in the top half of the box and will use UPVC style window hinges when the box is open)
This gives me 4no usb ports for my 2 keyboards and Korg PadKontrol
One of them to power my VCM 600 (that will be mounted in the top half of the box and will use UPVC style window hinges when the box is open to lift it into a tilted position)
Just to give you and idea of how it will end up I am monting the APC40 with an Alu Tread Plate that will be powder coated the same graphite colour of the APC.
to the right of the APC I will be drilling holes to put the Evolution X-Session to give me 16 more rotary pots, and above the APC40 I will be putting the NI ADJ8 - I am not too sure what I will find when I open my ADJ8 and if I can put the plastic bit with the LEDS there and have all of the connectors hidden within.......
I now have to work on the AC input, distribution box, breaker and somehow get my MBP charger slot thingy in somewhere that I can connect the charger but no leave the main body permanently inside the box....
Last edited by fleater on Tue Feb 22, 2011 10:29 pm; edited 8 times in total
---
I have been a little distracted from my project and things have been left on the back burner. I have bought a APC20 and converted it into a
APC80
The bloody thing does not fit into my box so I am back at the drawing board.....
Found this image when posting this and it did make chuckle.....

Dirk Bigler

APC40 user




Posts

: 126


Join date

: 2009-02-13


Age

: 46


Location

: Edinburgh



Page 2 of 2 •

1, 2

---
Permissions in this forum:
You
cannot
reply to topics in this forum